แนะนำให้รู้จักกับ โรงงานผลิตคอนแทคเลนส์ DreamCon
นะคะ
อ.ย. ไทย หมายเลข 73
ค่ะ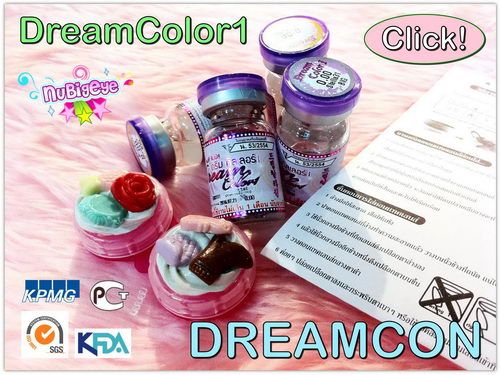 Company Introduction


Jan, 2003 Establised A & C Korea Co. Ltd
Dec, 2003 Completed Manufacturing Plant
April, 2006 Obtained a Patent for contact lens and mold separate machine (0572063)
May, 2006 Obtained a Patent for contact lens lathe (0578404)
June, 2006 Obtained a patent for vial capping machine (0596019)
April, 2007 Changed company name to DREAMCON Co. Ltd
June, 2007 Awarded KGMP
July, 2007 Open Seoul & Busan branch
Nov, 2007 Designated as a venture enterprise by government (2007020947)
Jan, 2008 Awarded CE and ISO 13485
Feb, 2008 Founded its affiliate laboratory
Dec, 2008 Designated as a 'bright prospect company to export " by Kyeongnam
Export Support Center which is depart of goverment
Jan, 2009 Founded its affiliate laboratory
Feb, 2009 designated as a 'Export upbringing Company' by goverment
Mar. 2009 attend MIDO & DIOPS
Designated as a "500-500 Project Company"
Apr. 2009 Extended expiration date 3years to 5years
May. 2009 attend Vision-X Dubai
Dominated as a "INOBIZ Business" by Goverment
( It means Korean goverment admit our high technology)
July. 2009 obtained a patent for color contact lens
Sep. 2009 obtained a patend for Nano contact lens
Mar. 2010 approved expire date 7 years from Korea Food & Drug Administration
Apr. 2010 Award prize by SMBA
Jun. 2010 Got SFDA certificate for China
(No.20103221704, 20103221703)- 4 Items
Register Design ( No.30-0564926, 30-0565014)
Aug. 2010 Resigter Health of Minister in Russia (No. C3 2010/07482)
Obtained Silicon Hydrogel lens - Dreamgel ( No 2523 )
Sep. 2010 Got GOST-R Certificate ( No 0028552 )
Dec. 2010 Got a prize of excellent trading company
Got approval of Iris lens by KFDA
Aug. 2011 Established Casting Mold Factory
Got Thai FDA
Dec. 2011 Awarded The top of Export 1 million from Korea President.
Awarded Small & Medium Business Administrator prize
Jan. 2012 Registered Brand- Black Rose
Feb. 2012 Founded Oneday production line
Mar. 2012 Got a prize from Gyeong-nam provincial Governor